A DIETARY ANION PRODUCT FOR TRANSITION DAIRY CATTLE
RealClose is a custom blend of anionic minerals on a wheat midd carrier blended in a propriety process with molasses to sweeten the mixture and increase palatability.
A close-up cow's requirement for calcium increases as it begins to make colostrum. After the cow has calved and starts to produce greater volumes of milk, her demand for calcium continues to increase. Commonly, during that period in a cow's life, they tend to naturally reduce their matter intake which leads to calcium deficiency during early lactation.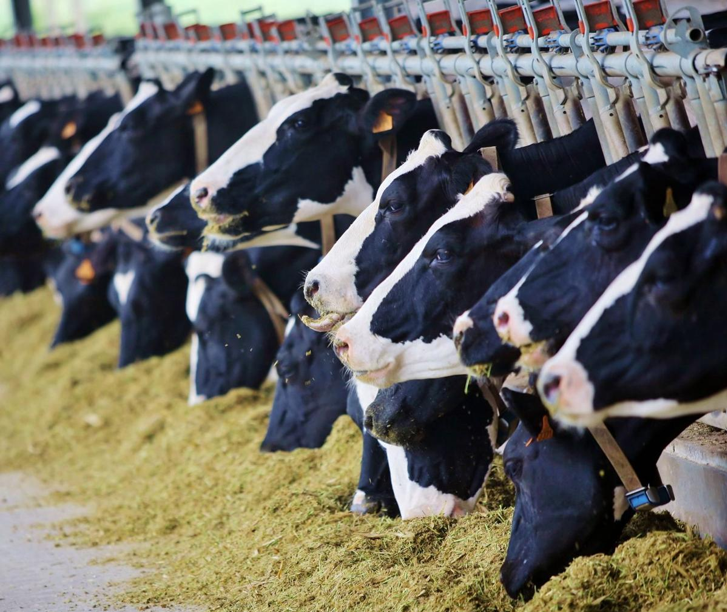 INTRODUCING NEW AND IMPROVED REALCLOSE
After years of successfully strengthening the dietary cation-anion difference (DCAD) of close-up dairy cattle, we are pleased to announce the new and improved RealClose. We have reformulated this product with a blend of different acidic compounds and chlorides to increase the negative DCAD even further.
PREVENTING MILK FEVER
To help prevent cow production loss through milk fever, exclusively formulated by Feed Sources, RealClose is a mineral supplement that promotes an optimal calcium balance in calving cows by lowering the dietary cation-anion difference which research has shown to help prevent hypocalcemia and milk fever.
MILK FEVER WHEN CALVING
If cows are unable to create sufficient calcium for colostrum production when they are calving, hypocalcemia can occur. A less severe form of hypocalcemia is subclinical milk fever, which can affect up to 50% of dairy cattle. Even if cows do survive milk fever, they may face short and long term health problems such a mastitis, displaced abomasum, and increased risk for retained fetal placenta that lead to decreased milk yield and affect profits.
THE SOLUTION
Hypocalcemia can be prevented through the addition of RealClose as a part of a comprehensive nutrition program. RealClose has been specifically designed to strengthen the dietary anion/cation difference of the dry cow ration. It helps restore the proper DCAD to prevent hypocalcemia by providing a dietary source of dietary anion/cation balance of -7,500 Meq with a wheat midd carrier to make one of the most homogenous mixes on the market.
HIGH PALATABLILITY: Enrobed and then dried in a proprietary molasses blend, RealClose is readily consumed without significantly depressing prepartum dry matter intakes. Minimizes feed refusal at a time intakes need to be up and, ultimately increased milk yield.
ANIONIC NEGATIVITY: Manufactured to be -7,500 Meq, enabling you to feed less than the competitor's products, acidifying your cows for less and allowing for more controlled feeding. With recommended feed rate of 1 to 1.3 lbs. daily it is less than all major competitors.
COMPOSITION: A uniquely formulated product with proven levels of chloride and sulfur, including other essential nutrients such as magnesium and phosphorus necessary for formulating a proper negative DCAD diet.
Subclinical hypocalcemia can affect up to 50% of dairy cattle which can then progress to milk fever. RealClose is a glutamic acid fermentation extract designed to strengthen the dietary cation-anion difference (DCAD) of the dry cow ration in order to prevent milk fever. Numerous products exist to prevent hypocalcemia by altering the DCAD or supplementing calcium. RealClose is a palatable product to animals and helps to restore the proper DCAD to prevent milk fever. Avoid production loss by preventing milk fever with Real Close.


Changing a cow's diet balance from cationic to anionic by feeding a negative DCAD diet prior to calving, helps reduce the risk of hypocalcemia. Consequently, the chloride and sulfur portions must be larger than the potassium and sodium portions. The negative DCAD or cation/anion balance, is a proven way to lower urine and blood pH and reduce blood calcium levels. By increasing chloride and sulfur levels, palatability can become a problem! RealClose, with our propriety blending of molasses, will solve this issue while maintaining one of the highest levels negative DCAD available.
Feeding Recommendations
Feed at a rate between 1.0 to 1.3 lb. per head daily to reach desired level of negative DCAD of the diet starting at 28 days prior to calving. Consult your nutritionist for further feeding recommendations.
Packaged in 50 lb Bags
Also Available in Super Sacks